Today I'm going to share how to create an RGB Split Photo Effect in 4 simple steps using Adobe Photoshop.
Oh, and by the way.. did I mention you don't even have to do it yourself? That's right, I'm including an awesome Photoshop Action as a freebie today! Find a link at the bottom of this post.
But in case you want to know exactly how to recreate this cool, colorful glitch effect for your own photos & graphics, read on for the full Photoshop tutorial.
An RGB Split Effect results in photos that have a glitch-like appearance, where the colors that comprise all white light (red, green, blue) went out-of-bounds. No idea what I mean? I'll quit trying to describe it and just show you.
It looks like this: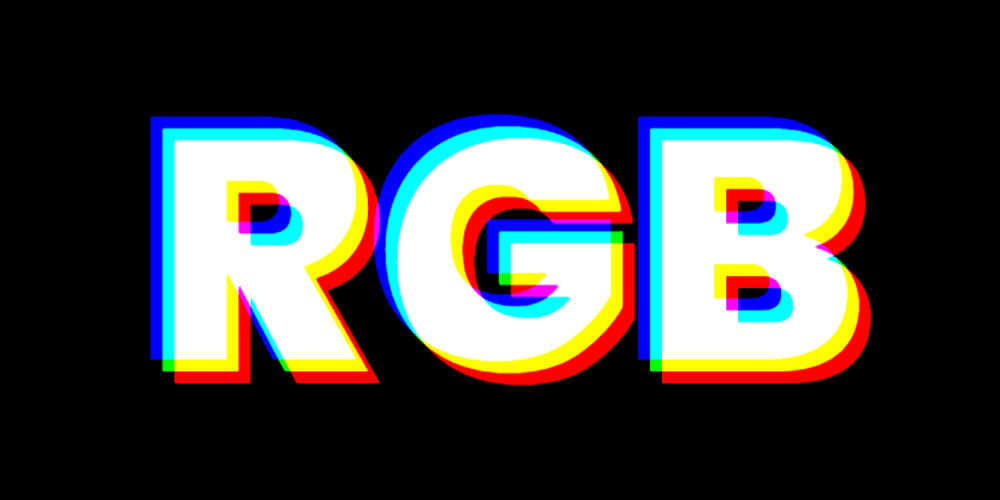 This RGB split effect looks cool on text, but it looks really cool on photos. I find it's usually most effective on black & white photos, where the cyan and red can really POP, but that's just my preference. This method can be applied to color photos for an interesting hazy/fuzzy effect as well.
If you don't have any cool images of your own to use for this tutorial, I highly recommend you head over to Pexels and download something special for free.
How to Create an RGB Split Glitch Photo Effect in Photoshop
Step 1: Go to Image > Adjustments > Black & White
Step 1 is optional, since you can just as easily apply this effect to color photos.
Open your image in Photoshop and convert it to black & white. There are several ways to do this, however- by going to Image > Adjustments > Black & White, you'll be able to adjust the luminosity of individual colors in your photo, which gives you more control over the final black & white version.
Step 2: Duplicate Your Image Two Times
Make two exact copies of your original image (background layer). To do this, simply click on the image thumbnail in the layers panel and drag the image over the "Add New Layer" icon, which is the square with a plus sign in it. Do this twice.
And as every good graphic designer knows, you'd better rename those layers. Otherwise you're going to forget what "Layer Copy 1" and "Layer Copy 2" are supposed to do.
Rename Copy 1 to "Red"
Rename Copy 2 to "Cyan"
Step 3: Change the Layer Blending Options
Now we have 3 photo layers: Layer 1, red, and cyan. Don't worry about the default Background layer, just leave it alone.
Double click the image thumbnail on the red layer to bring up the blending options. In the layer style panel, under Advanced Blending Options, you see:
Channels: R ☑ G ☑ B ☑
If you haven't caught on yet, RGB stands for Red, Green, Blue – the three primary colors that make up white light.
For the red layer, uncheck the G and B. Hint: you won't see any changes yet!
Repeat this step for the cyan layer, except this time, only uncheck the R. Green and blue together make cyan.
Step 4: Adjust the Placement of the Layers
Ready to see the magic happen? We're so close!
If you're following along, you probably already have the cyan layer selected. Just select one of the two copies: cyan or red. You will repeat this step for both layers.
Now make sure you have the Move Tool selected from the toolbar. It's the very first/uppermost tool, or you can press V as a keyboard shortcut to bring it up.
Use the arrow keys on your keyboard to move the layer around. You'll see the effect start to take place immediately. Do the same to the red layer, and play around until you achieve the desired affect.
Bonus Step: Try different Channel Combinations in Blending Modes
Try different combinations of the RGB Channels in your layers. You certainly don't have to stick to the traditional red and cyan. Achieve different looks by leaving the R and B channels on in a layer, for example, until you find something you like!
I created more of a purple/green split effect in this version:
And that's it! Super easy. Super effective.
But wait!
I've actually created an RGB split effect as a Photoshop Action, and it's yours to download and use for free! A Photoshop Action recreates this process for you so you don't have to repeat these steps every time you want to apply the RGB Split Effect to a photo.
With this free Photoshop RGB Split Action, all the duplicate layers and channel settings/blending modes are done for you. All you have to do is move the Red and Cyan layers around until you achieve an effect you like.
To save the Photoshop Action for Use, drag the file into your Actions folder, located here:
Mac: Applications/Adobe Photoshop/Presets/Actions
Windows: C:/Users/Username/AppData/Roaming/Adobe/Adobe Photoshop/Presets/Actions
Get the Free Action by Entering Your Email ->
The form you have selected does not exist.
Pin this image to save for later or to share with friends!
---
Want more Graphic Design Tutorials?
---
Happy Color Splitting!